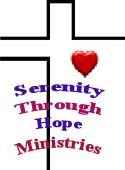 If you want a place for daily devotion and inspiration, or have a prayer request visit Pastor Rick. Click on above cross logo.
Come in, look around. I love to crochet and I love Jesus. My site is dedicated to the art of crochet and my love for Jesus. I will put pictures of projects, favorite links and anything fun I can find. So besure to visit all my pages. If you have a favorite pattern or one you've made up and would like it on here there is a form on the last page to submit it. So Enjoy!!
You will find my Original Designs on the 5th page of this site. I have added my newest pattern for my 5 Petal Flower Stitch and Lattice. Please take.
Add your site or your favorite site links to my Free Links Page.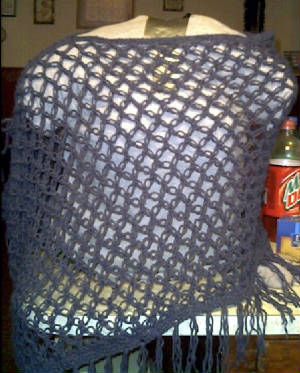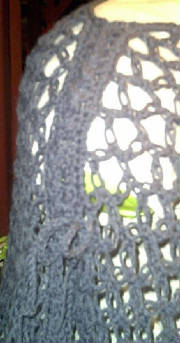 This is my newest poncho. I made it out of Woolease denium and I used the Love knot or Solomans Knot stitch. I learned the stitch but was not clear on how to make more then one row so I went by this pattern for a shawl http://www.craftown.com/crochet/pat52.htm I then laced up shoulder instead of sewing it. and added a little fringe.
This poncho is for sale. I made it for someone and they don't want it. It is a small to med in size. Give me your best offer and I will ship it to you free. E-mail me at c_lear@bellsouth.net.
This poncho I used the spider web stitch and two rectangles. It is a x-mas gift for sister-in-law. I have added the spider web stitch to my patterns page.
This poncho is also for sale
it is for a Large to plus size poncho
for sale. Give best offer and I will ship it.
Here is a V-stitch poncho I got the pattern off Crochet Pattern Central.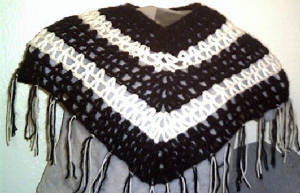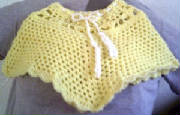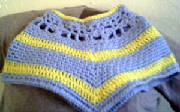 These two ponchos are my pattern and will post as soon as possible hopefully by tomarrow. The pattern has been added to my Original pattern page.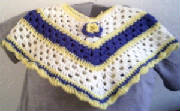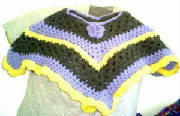 These two are done in the granny square stitch.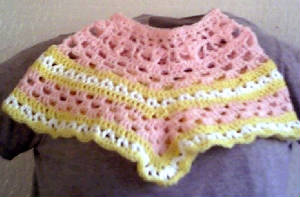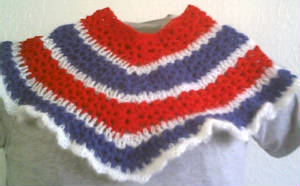 Well three more child size poncho's. The red, white and blue is my favorite.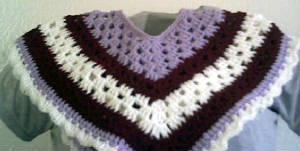 This is another poncho and matching hat made with pattern listed below. I sent this to a friend in OK. she is going to be my advertiser to see if I can get some orders. Hubby modeled but made me promise to blck his face out.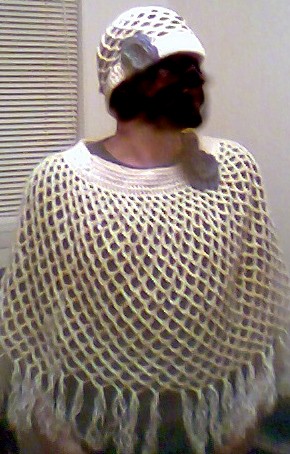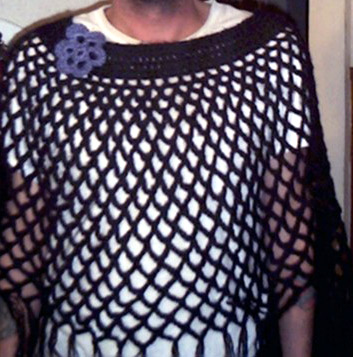 Well my newest poncho's. The black one is mine to wear during holidays. The pattern is at http://web.archive.org/web/20010303172352/http://www.cei.net/~vchisam/groovy/05-202.html It works up easy and fairly quick too. I finally found something to make with the Caron Simply Soft, in Embrodiery color. I added the little yellow flower to add an off set color to set it off. I decided yesterday at 3:00pm I needed a poncho I could wear here because it is still warm here and I really never was interested in this pattern but I am pleasantly suprised and will make more of this one.
This is also for sale. It is a little girl size 8-10 small. Best offer!
This poncho is for a friend of mines grand daughter hoping to get some orders for them once it is recieved there. The first one is done in the granny square stitcha nd the second one is the V sitich and hdc's.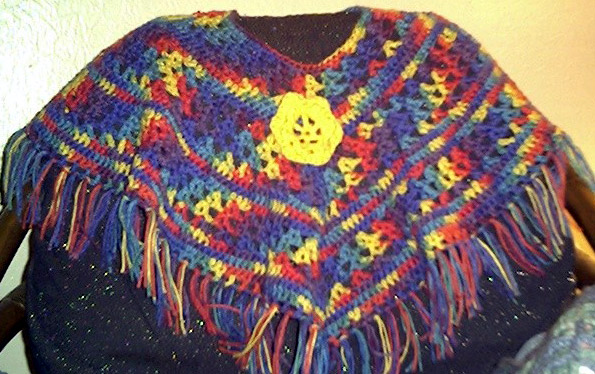 This little poncho and hat are for sale together. I would say it is for a 2-3 year old or a small 4-5 year old. Give best offer.